Exporting from Autodesk Revit
In this tutorial, you will learn best practices for exporting a 3D model from Revit for use in cmBuilder.
________________________________________________________
Summary
*Do not export FBX files from Revit directly! Your model will lose the colors and the 3D parts will be disorganized and hard to create a sequence with.
There are two main options to export a file from Revit, but you should start by filtering your model to have only the parts you need.
Use Visibility Graphics to filter elements by category and remove nonessential elements
From Annotation Categories - Deactivate Show annotation categories in this view
Exporting Options
1. Export to IFC
Under General, select Split Walls, Columns, Ducts by Level

Use IFC 2x3 Coordination View 2.0 schema for the best results
From Coordinate Base, select Project Base Point
Under Additional Content, select Export only elements visible in view

Click Export

2. Export to NWC (for Navisworks)
Download the NWC Exporter utility here: LINK
Select File > NWC > Export
Deactivate room export on NWC Settings
Open in Navisworks and export to FBX (See Further Reading: Export from Navisworks)
Note: The Model Appearance and Tree Structure in cmBuilder will depend on how it is converted originally.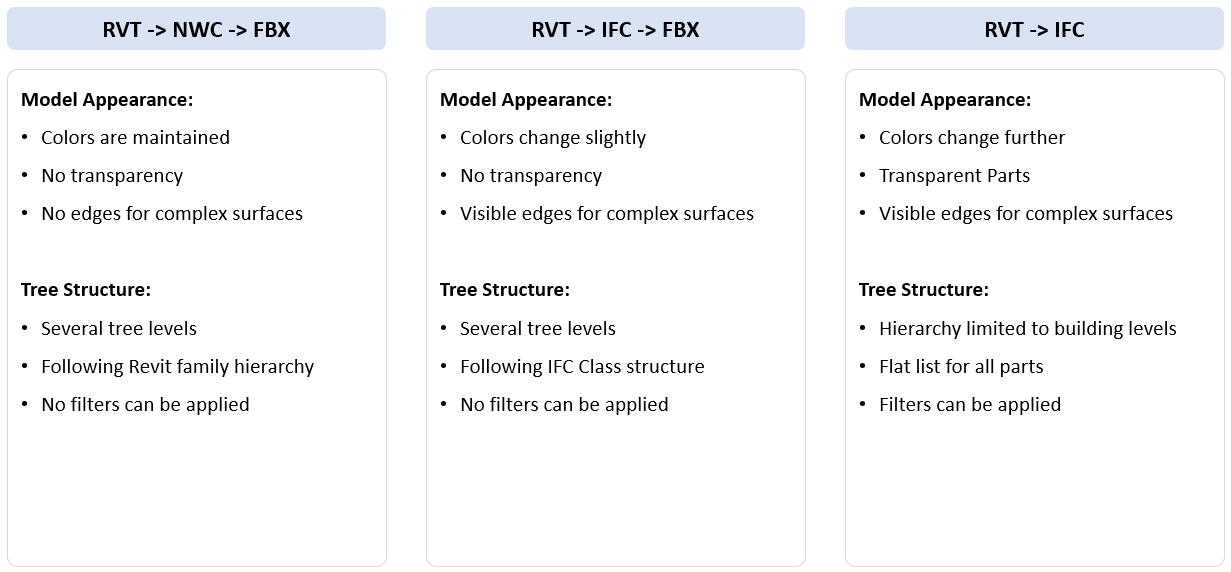 ________________________________________________________
Advanced instructions
Tips:
Split elements by level wherever possible and ensure that each element is assigned to the correct 'Reference Level'
If the reference level parameter does not exist, follow the instructions below to create a text parameter
1. Group elements with Assemblies
If the imported IFC model tree structure is not user friendly for the cmBuilder sequence. The model can be split/grouped by creating an element assembly in Revit.
Select multiple objects to be grouped together - the Modify tab will open
Click Create Assembly, and enter a name and naming category (group type), click OK

Note: Sometimes Revit won't allow you to create an assembly due to some of the selected objects being in an existing group or assembly. Select the objects and click Ungroup or Disassemble. Now try again to create the assembly.

Under Manage, go to Project Parameters > Add

Enter the name "IfcSpatialContainer" under Parameter Data
Set Type of Parameter to "Text"
Select Vary by group instance, and Check All

Enter the value for "IfcSpatialContainer" - Name the created assembly based on grouping. Eg. "Area 1", and click Apply
Repeat the process for every created Assembly
Export to IFC as described above
2. Split the model with Section Box
To split only particular elements, for example slabs, first hide all other elements from visibility graphics
From the Properties side menu, scroll down to Extents

Check Section Box
Pull the arrow handles to adjust the section box - everything outside the section box will not be visible

Hint: Use orthographic views (top, front, left, etc.) to more accurately adjust the section box

Click Apply

Export an IFC as above and ensure 'Export elements only visible in view' is checked upon export
________________________________________________________
Further Reading: