In this tutorial, you will learn how to Import a Mesh for single-mesh files that don't need a complex conversion process.
The imported mesh allows you to import different file types from the Imported Model.

Currently, we support GLB formats and will be adding more!

You can use this to import drone scans, and your own resource models. Did you know? You can also import your drone scans as a FBX file, which actually loads faster in cmBuilder compared to a GLB!
Typical Workflow
1. In edit mode, click Buildings from the toolbar, followed by "Imported Mesh".
2. "Upload File" from your computer, or "Browse Existing Meshes" other files (When there's other imported mesh that can be brought in from another scenario).
3. The mesh file is being uploaded, you will see a progress bar inside the uploader.
Note: The file size upload limit is 1.5 GB and the recommended file size should be less than 500 MB to prevent affected site load time
4. Imported meshes do not need conversion, so after the upload is done, the instance card is displayed inside the sidesheet.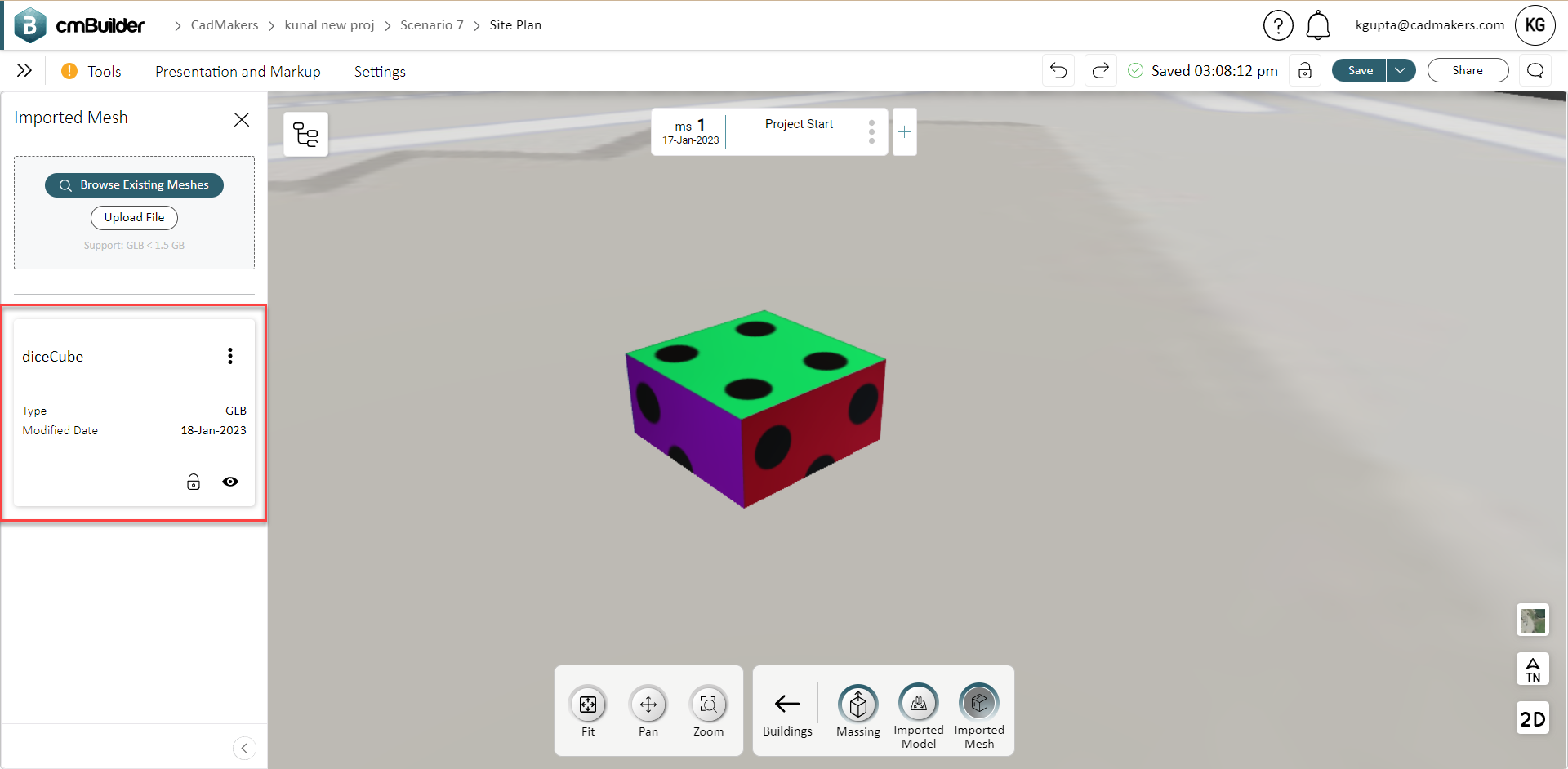 5. You have successfully imported a mesh. To import more, you can use the file upload area and choose action accordingly.
________________________________________________________
Edit Mesh
1. cmBuilder now allows you to edit the name and the timeline of the mesh. There are multiple ways to do so:
Click the three dots on the mesh card from the 'Imported Mesh side sheet and click "Edit".
Alternatively, you can right-click the mesh and choose "Edit" from the context menu.
Go to the model browser, under Site Planning, and then right-click on the imported mesh and click "Edit".
________________________________________________________
Managing Mesh Files
Store and manage uploaded meshes from Documents.

To download the original mesh file, click the three dots on the mesh row, followed by Download Original Model.

Click Upload on the top right corner to upload another mesh file from here.

Like with projects, you can archive models. This will not remove them from the scenario to preserve where the mesh is used in previous scenario versions.

Click the three dots on the mesh name, then click Archive.

To remove the mesh from the scenario, that must be done within the scenario from Imported Meshes.