Okta Single Sign-On (SSO) - Configuration Guide With this integration, your company can use Okta as a single-sign provider when accessing cmBuilder, allowing easy and secure management of users' login process and information.
Supported Features
Service Provider (SP)-initiated SSO - Users on the cmCore platform can choose to login using
their Okta account
Requirements To configure your cmCore tenant to have SSO through Okta, you must:
Have a cmCore company setup (if you have a cmBuilder tenant, then this is complete)
Have the role "Admin" or "Owner" within that company
Have a Premium or Enterprise subscription
Have cmCore installed in your Okta tenant
Configuration Steps
1. Gather information from Okta a. Enter your organization's Okta tenant b. Access the cmCore application c. Retrieve the Client Id and Client Secret. d. Copy your Issuer URL from the address bar in the exact format https://your-company-name.okta.com Note: If your company name includes the -admin suffix. For example, https://your-company-name-admin.okta.com simply remove the -admin portion.
2. Enter your information to cmCore (including cmBuilder) a. Login to cmCore at
https://login.cmcore.io b. Navigate to the Admin Settings. c. Click on SSO Settings and choose Okta. d. Add the Client Id, Client Secret, and Issuer URL from earlier and hit save.
Signing in with Okta Once the steps above are complete you can log in using Okta by doing the following:
1. Visit 🔗https://app.cmbuilder.io/ or 🔗https://login.cmcore.io/
2. Initiate the Okta sign in flow by clicking on the Okta button.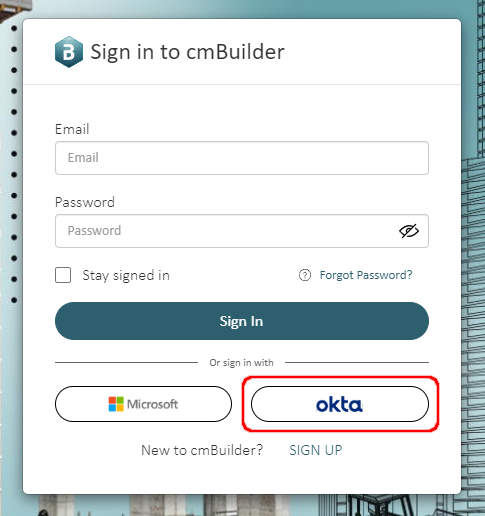 3. Enter your company name proceed by hitting the Next.
4. Login with your Okta account, once successfully signed in you will be redirected.
Inviting users to use SSO
1. Visit 🔗https://app.cmbuilder.io/ and navigate to Company Settings -> User Management -> Users
2. Click Invite Users on the top right and enter the users email. (Note: The email must match the email used to sign into Okta)
3. The user will receive an invitation email and form. Once that is filled they are able to access cmBuilder using SSO!