When trying to project an object, you might get the following notification: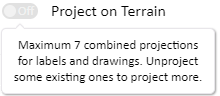 This is due to a technical constraint of how graphics card software works - which creates a limit on how many projection layers can be applied.
Several object types have the ability to Project on Terrain. Each object type has a layer, and objects within that layer can have their order changed. Each layer has its own rules for how many slots it takes up as well.
The order of layering from top-to-bottom is:
3D Labels - Each projected 3D Label takes up a projection slot
3D Lines - All projected 3D Lines together share one projection slot
Zones - All projected Zones together share one projection slot
Drawings - Each projected Drawing takes up a projection slot