How to upload and overlay drawings onto the site plan.
Upload Drawings:
Click on Project Setup, then Drawing Overlay
Browse from file by clicking Upload Drawings, or drag and drop the files here

Upload multiple drawings from the same file by clicking on the drawing or check box, followed by Select
Drawing Overlay (left side) Menu -

Hide/Show the drawing by using the eye icon
Edit the drawing from the pencil icon (or as usual double-click on the object or right-click, edit)
Fix a drawings state and prevent editing using the lock icon

Edit Drawing (right side) Menu -

Click on the pencil next to the name to edit Drawing Name
Use the scroll bar to set Drawing Overlay opacity
Select "Scale to Distance" to define distance between two points on the drawing
Select "2-Point Positioning" to define points transformations on drawing and 2D map
Select "Snap to position using another drawing" to select existing drawing to apply its position (Option available when at least two drawings are uploaded)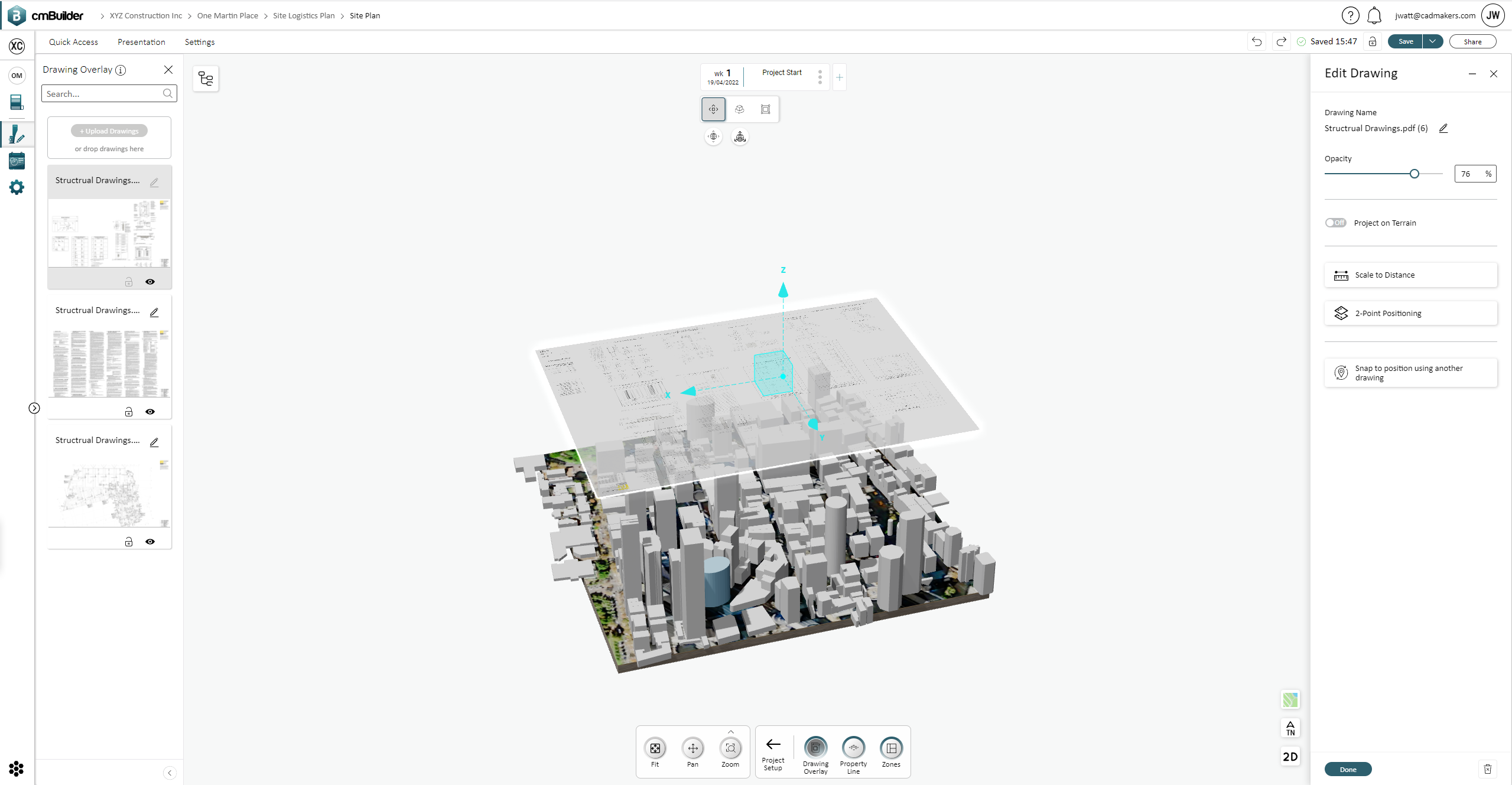 Note: Drawings cannot be sequenced, only shown or hidden.
Project on Terrain:
This feature gives the ability to drape the drawing (or image) onto the map tile irrespective of map topography, covering the existing map image -
When editing the drawing overlay

Toggle ON/OFF Project on Terrain
Adjust opacity to 100% to replace the underlying image
Click Done to implement changes, and the drawing object will automatically hide

Hide/Show now refers to the projection

If projecting multiple drawings onto the terrain, the one higher on the the z-axis takes precedence

If the higher drawing is smaller, then it will appear on top of the lower drawing

Note: The map image was previously constrained to the default map or satellite view; however, this feature gives the ability to replace that image. For example, with a high resolution drone image.
Further Reading: