In this tutorial, you will learn how to export videos to share.
It can be used as an alternative to the shared link for documentation and presentation deliverables.
________________________________________________________
❗ Note
Firefox and Safari does not currently support recording a tab, so video export is not available for these browsers.
________________________________________________________
Summary
Click on the Share button on the top right of the Site Plan
Select Export Presentation Video
Set export configurations:
Video Quality: Controls video bitrate. Lowering the quality will produce a smaller file size but may produce a more blocky video,
Presentation Speed: This setting is most suitable for Read more about increasing the final output's smoothness in the section below
Export Format: WebM is recommended and supported by most web and media players.
Video Compression Standard: VP9 and H.264 are the top two suggested formats for their efficiency in providing high-quality videos.
Click
Next
Confirm the tab in the screen selection and click
Share
NOTE: This screen may differ depending on your browser settings. Ensure you select the correct tab by toggling between selections.
Click the
play
button to start the recording.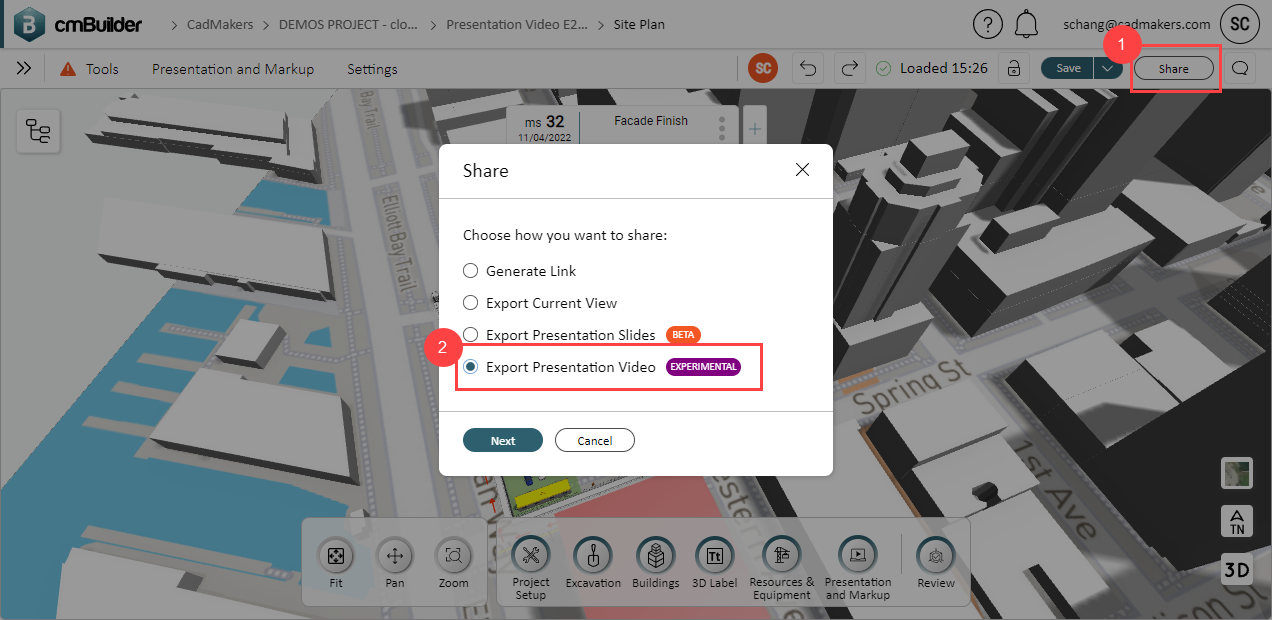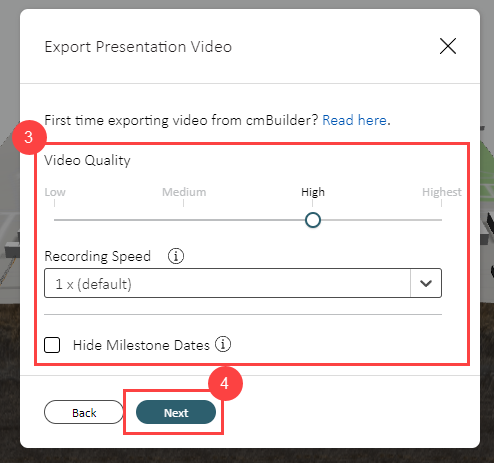 ________________________________________________________
Increase the final output's smoothness (FPS)
This is most useful for heavy scenarios that are slow and choppy.
Set a slower speed for the initial recording and use a video speed editor to post-process and return the speed to normal.
Select a slower speed for the initial recording
To get an idea of how much to slow down, use the App Performance tab to get a reference of the current FPS.
Select the slow-down factor correlated with how far the current FPS is away from the desired final output.

e.g. If your current FPS = 15 and the ideal output is 60 FPS. Select a slow-down factor of 1/4
The final output will be the slow-down version when the recording is completed.
Use video processing software to speed it up to the original speed.
Some recommended software are iMovie, Windows Movie Maker, and Camtasia.